If you want everyone to buy a manual transmission model, I believe many people are unwilling. After all, manual gear is complex and difficult to control in the eyes of many people, and some people think that manual gear is a low-end product.
With the development of science and technology, the current transmission research and development and production technology is indeed very advanced, but this does not mean that the manual gear should be abandoned, and the existence value of the manual transmission must be vetoed. And the manual gear is not as difficult to control as expected.
In fact, with the development of technology, manual transmissions have also been evolving. With the cooperation of the driving computer, basically the manual transmission has also become very easy to use.
Compared with automatic transmission, manual transmission does have more fun, especially when handling, the kind of arbitrary and direct transmission of power is enough to make people feel excited.
When it comes to manual transmission, many owners of manual transmission models have the habit of changing the gear shift head. Do you know why? Because of beauty? In fact, good looks is only one of the factors. In fact, the last gear shift knob affects more than just the appearance.
Since manual transmission vehicles need to change gears more frequently, the driver needs to touch the gear shift knob frequently, and when shifting gears, he also relies on the gear shift knob to push and pull against the palm of his hand. Therefore, if the owner feels that it feels bad to hold the gear shift head, it will be very awkward.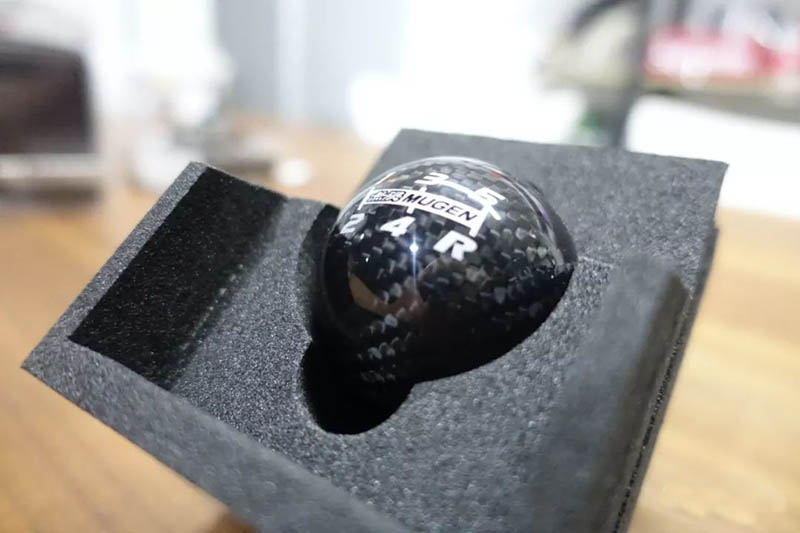 This is MUGEN's carbon fiber shift head, 5-speed. It is carbon fiber clad steel with a diameter of 50mm.
However, since it is necessary to replace the gear shifter, as a Honda fan, of course, it is necessary to replace it with one that is closely related to Honda.
For example, the gear shifter launched by MUGEN is a good choice. It has two styles. The first one is a steel-clad carbon fiber style and the other is an all-steel style. Both are 50mm in diameter. The size is moderate, just enough to fill the palm of the hand with one hand, and the weight is heavier than the original one, making it easier to use.