What a car shift knob is and what it does
A car gear shift knob, also known as a shift knob, or gear lever knob, is the physical interface between the gear lever and the driver's hand. It is used to change the gears of the car manually or automatically, depending on the type of transmission. The shift knob usually has a shift mode diagram that instructs the driver how to move the gear lever to select the desired gear. Gear shift handles can be made of various materials, such as plastic, aluminum, leather, or carbon fiber, and can come in different shapes, sizes, and weights. The shift knob can also be customized to the driver's preferences and style.
History and evolution of shift knobs
The shift knob is the physical interface between the gear lever and the driver's hand. Gear shift knobs are most commonly found between the front seats of a vehicle, either on the center console, transmission tunnel, or directly on the floor.
Some shift knobs are ergonomically designed to provide a comfortable and secure grip. Some gear shift handles also have indicators that show the gears or mode of the transmission. As transmission technology and car design have changed, shift knobs have evolved over time. For example, some modern sports cars have completely replaced the gear lever with "paddles", which are a pair of levers mounted on either side of the steering column to operate electrical switches to shift gears. Another example is the pushbutton shifter, which is a button panel that allows the transmission to be controlled electronically without mechanical linkage.
Different types of shift knobs, such as manual, automatic, custom, universal, etc.
A gear shift knob is a device attached to the end of a shift lever of a manual or automatic transmission vehicle. It allows the driver to shift gears by holding and moving the knob.
There are several types of shift knobs on the market, each with its own style, material, and accessories.
Here are some common types:
Spherical: This type of shifter is popular because it's comfortable to hold and easy to grip. Their outer surfaces are usually covered with materials such as leather, rubber, plastic, or carbon fiber.
Pistol Grip Shape: This shift knob is similar to the handle of a pistol or revolver. It is designed to fit the contours of the hand and provide a firm grip. Some drivers prefer this type of shift knob because it gives them a sense of control and power. 
Heavy Weight: This shift knob is heavier than a regular shift knob, usually weighing about 400 grams or more. The extra weight helps reduce the force required to shift gears and improves the accuracy and smoothness of shifting gears. Some drivers like this type of shift knob because it improves driving performance and feels.
Custom style: This type of gear shift knob is designed to reflect the driver's personality and preferences. It can have a variety of shapes, colors, patterns, signs, or symbols that suit the driver's taste. Some drivers choose this type of gear shift handle in order to make their car interior more unique and attractive. 
These are some of the different types of unique shift knobs you can find in the market.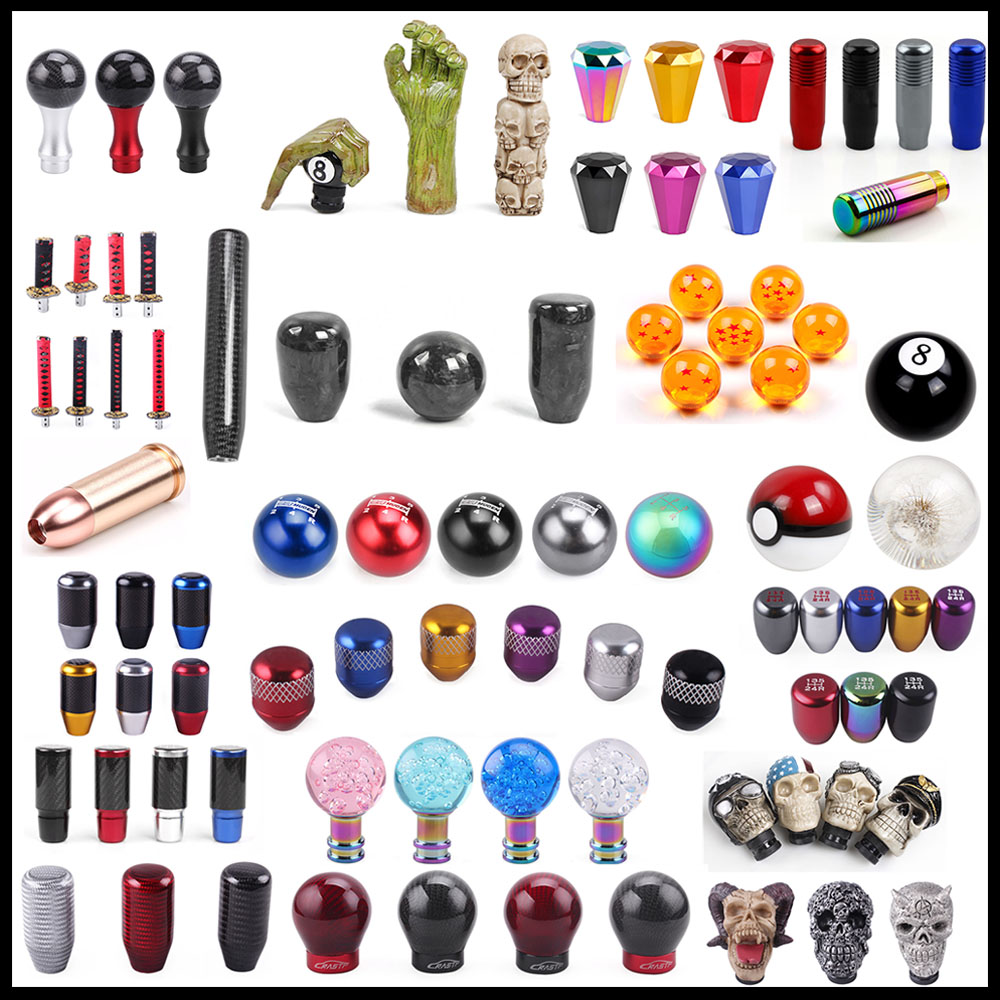 How to install universal custom shift knob
Step 1: Remove the original gear shift handle.
Pull the original gear shift handle off the gear shift lever. You may need to turn it slightly or use a flathead screwdriver to pry it loose.
Step 2: Install the shift knob
Place the adapter or mounting kit on the gear lever and secure it with screws or nuts. Align the custom shift knob with the shift lever and push firmly down until it clicks into place. Use the appropriate tool to tighten the set screws on the back of the custom shift knob. Test the custom shift knob by shifting all gears and checking for looseness.
Suggestions for car owners, manufacturers, and retailers of shift knobs
For car owners, choose the gear shift knob that matches your style, comfort, and budget. There are many options in the market, such as aftermarket products, heavy weighted, Dragon Ball, katana, pistol grip shape shift knob, etc. You can also look for shift knobs with special features, such as LED lights, or carbon fiber material.
For manufacturers, focus on the quality, durability, and versatility of the gear shift handle. Make sure your gear shift knob is durable and won't wear out, fade or crack. Different adapters or gaskets are available to accommodate various gear levers and models.
For retailers, a wide range of shift knobs is available to meet the preferences and needs of different customers. You can also provide installation guides or videos to help customers easily and correctly install their new shift knobs. You can also offer discounts, free shipping, or warranty services to attract more customers and increase sales.